Wednesday 4/5 - Grilled Tempeh Sandwich and An Exercise Update
And... we're back! It's been a while, I know, but between not having my camera and dealing with the increasing workload at school, I haven't been able to spend much time blogging. As you know. But I got my camera back yesterday, so at least that part is back to normal. I'm glad. I miss obsessively photographing what I eat. Unfortunately dinner tonight was just the VwaV samosa filling, which I've posted like 3 pictures of, so I didn't bother with that. I have one of lunch, though.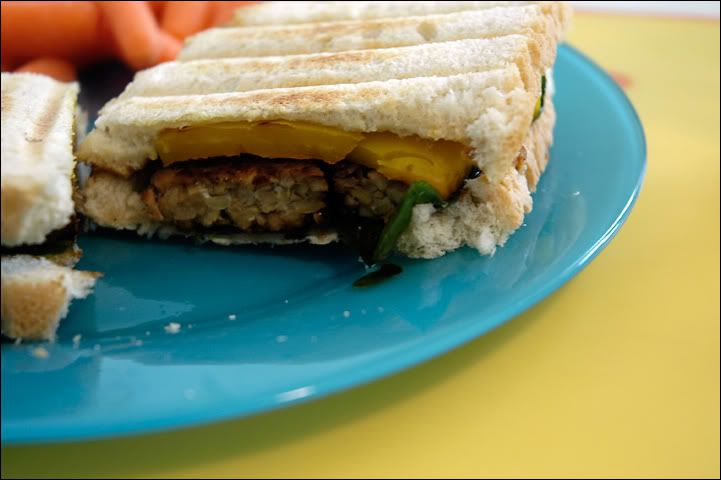 A grilled sandwich! The Boy brought home a George Foreman grill that his mom was getting rid of, and this is pretty much the only thing I've used it for just yet. Sauteed marinated tempeh, grilled yellow peppers, and spinach on sourdough bread. I built the sandwich and then stuck the whole thing in the George Foreman for a few minutes. Yum. I want to make paninis now.
And now onto the real news: I've been working out. That's right, I'm actually following up on one of my lofty declarations. The plan is to do cardio on Monday, Wednesday, and Friday and strength training on Tuesday, Thursday, and Saturday, with Sunday as a rest day. For cardio I'm following the
Couch to 5K
running program, which works you up to running 3 miles at a time over 9 weeks. I did it once before, so I know I can do it again. I took the
month one strength training workout
from the Self Challenge, which I did yesterday with 5 lb dumbells and will do tomorrow with 3 lb ones, because 5 lbs almost killed me.
I never really paid much attention to strength training. I was like, yeah, okay, lift some weights, do some crunches, whatever. It just didn't seem that effective. But ooooh man. That workout kicked my butt. I will never doubt strength training again.
The most amazing part of all of this is how early I've been getting up. Monday morning we were out at 7:00; this morning we were already done by then. We're talking about me here -
me
- someone who thinks 10 a.m. is too damn early. But I've really been enjoying it. I love having my workout done before I even eat breakfast, and the day seems a lot longer when you're actually awake for most of it. Who knew. This morning it was 30 degrees, windy, raining, even snowing a bit, but I didn't even really think twice about getting up to go out. Having a partner really helps a lot.
I've been eating pretty well too. Interestingly it seems like I actually eat less when I exercise. Maybe because I don't want to undo the progress I've made. I don't really know, but I just haven't had the same cravings for the last few days. All in all it's been a good 3 days. I think exercise may be the key for me. Hopefully this easy commitment I've been feeling will last.