Sunday 4/9 - Pasta with Sun-Dried Tomatoes and Broccoli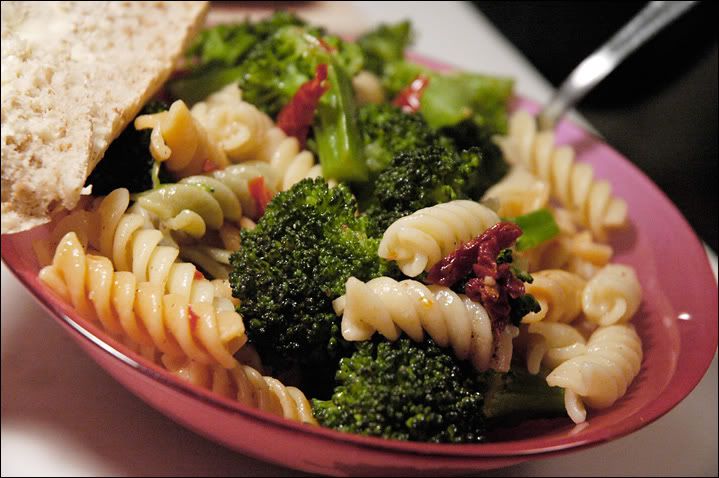 Jessiegirl
's post about Nava Atlas'
Vegetarian 5-Ingredient Gourmet
inspired me to crack it open last night, after having it on my shelf for years and not making anything from it. I chose the Pasta with Sun-Dried Tomatoes and Broccoli because, as I've said before, I have one whole kitchen cabinet devoted to various sizes and shapes of pasta. It's a little ridiculous considering how seldom I eat regular old pasta these days, but once upon a time it was a staple in my diet and I still buy a box every now and then out of some weird compulsion to stockpile food. I do it with other things too. You should see all the cans of beans and diced tomatoes I have hanging out up there.
So anyway, lots of pasta. I was also intrigued by the sun-dried tomatoes. I have a very tenuous relationship with tomatoes - I only like them when they're cooked to death. Mostly it's a texture thing. And a taste thing. Basically I just really hate raw tomatoes. I'd never had sun-dried ones before tonight, but I always kind of thought I'd like them. And what do you know, I was right.
This dish is very, very simple, in keeping with the theme of the book. It's just pasta mixed with steamed broccoli, sliced sun-dried tomatoes, and a little olive oil. Season with salt and pepper and eat up. The original recipe calls for parmesan cheese as the 5th ingredient, but of course I left that out. So what we have here is a lightning-quick, dead simple meal that tastes pretty damn good. What more could you want, really?
Score: 10. I love a heavily-spiced dish with layers of flavor as much as the next person who loves that a lot, but sometimes you just want something that's fast and simple and tastes good. Look no further.