The Sandwich Plus Container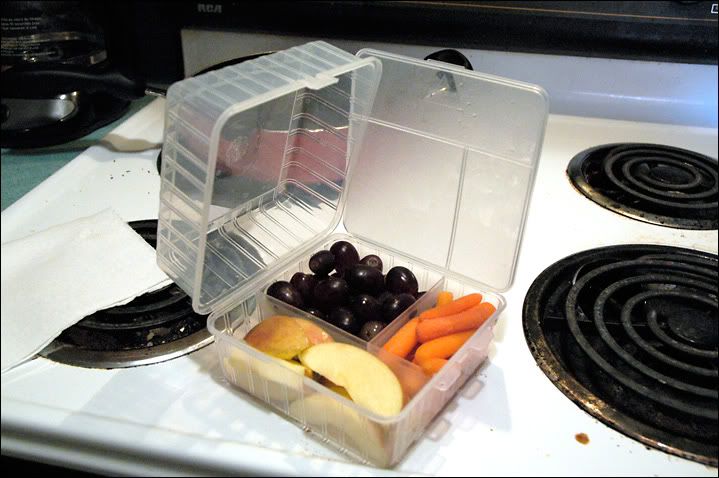 As you may (or may not) know, I usually take my lunch to school and work in a 1989 Teenage Mutant Ninja Turtles lunchbox stuffed with tupperware and plastic bags. It gets the job done and is fun to look at (Turtles! Donatello was always my favorite), but all those extra bits of plastic are anything but environmentally friendly. Plus it takes up
way
too much room in my bag, and that's a big drawback considering all the crap I have to take to school. So I was in the market for something new.
I've been lusting after a
Laptop Lunchbox
(of
Vegan Lunchbox
fame) for a while, but it's kind of pricey and not a whole lot smaller than what I use now. The other item I had my eye on was the
Sandwich Plus Container
from the Container Store. It's substaintially cheaper even with shipping, so I went ahead and ordered two - one for me and one for The Boy.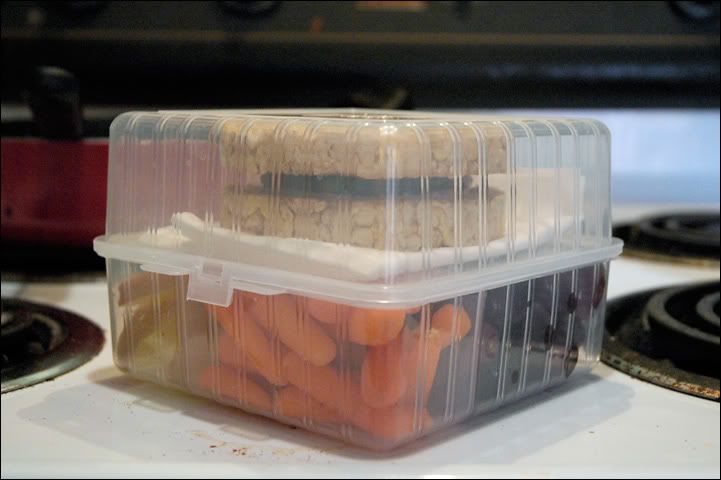 Basically it's a double-decker container with dividers in the bottom half. You put your snacks in the bottom, close the inner lid, put your sandwich or whatever on top and close the whole thing up. Pretty simple and self-explanatory. It's bigger than I thought it would be from the picture on the website, but it's definitely smaller than my lunchbox and it fits quite nicely in my bag. It's made of sturdy, clear-ish plastic and definitely keeps my lunch safe from falling rocks or stampeding miniature elephants.
The one downside is that you can't really put wet foods in it. I mean, I haven't tried it out myself but it just seems like it wouldn't work very well. Something like pasta salad or rice pilaf would probably be fine, though.
I give the Sandwich Plus Container a 9. Minus one point for lack of wet food storage ability, but an excellent container on all other fronts.