4/12 - Bruschetta and Roasted Potatoes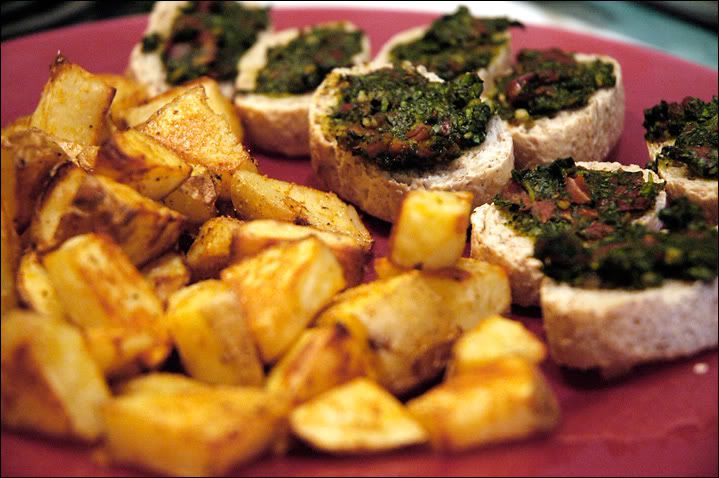 I found another use for my spinach and sun-dried tomato pesto - bruschetta! Faux-bruschetta, anyway, since it's really just thin slices of wheat baguette topped with pesto and toasted to crisp things up a bit. It was really good, though. I'm going to make a vat of this stuff and put it on everything. The potatoes were standard issue. Salt, pepper, garlic powder, chili powder. I love potatoes.
Ass-Shakin' Update:
This morning's run was kind of difficult. The Boy was being sluggish and cranky, so we didn't get out the door until 8:00, and then once we got to the track I couldn't really get into it. I felt like I was just dragging myself through along, like a lot of dead weight huffing and puffing and shuffling. The Boy wasn't feeling it either and said that he didn't really want to finish, to which I replied that he could quit if he wanted but I was damn well finishing what I'd started. He didn't quit. We finished the whole thing and of course I felt awesome afterward. I would have been so mad at myself if I'd stopped... like I was admitting defeat. And there is
nothing
in the world that I hate more than admitting that I can't do something.
It's probably kind of sick that hyper-perfectionism is part of the fuel that keeps me plugging along, but all I can say is that it's about damn time my issues started pulling their weight around here. "Pulling their weight." Hahahahaha. Horrible pun totally intended.
And now, a picture of a cat! Because a blog can never have too many adorable cats gazing at the heavens.